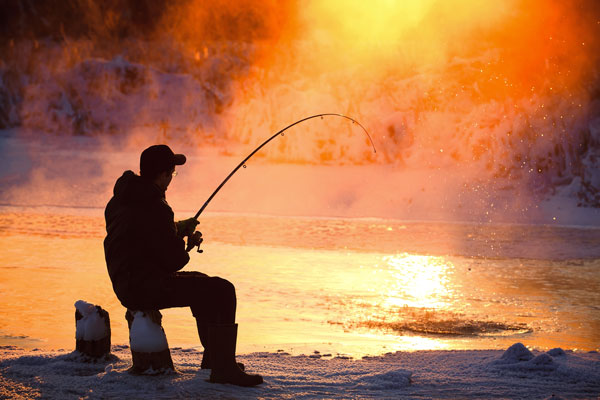 Winter is here
As winter closes in and the ice begins to set, there will no doubt be reports of hungry fish with an aggressive bite. First ice always brings fishermen out in droves to take advantage of what's considered to be the best time for ice fishing. And it doesn't necessarily matter if you're way up in Minnesota, Wisconsin or Michigan, because early season ice fishing can be super just about anywhere. The fish go into a feeding frenzy this time of year and walleyes are no exception.
The question is, why does the action get so hot and heavy while the weather is cooling off? There are a number of theories, but no definitive answer. One possibility is that all the sediment that was kicked up during fall's unstable weather begins to settle out once the ice puts a lid on it. The water clears and the baitfish are still in the shallows and easy to see, so walleyes don't stray too much from their earlier haunts and habits. They will continue to hang around their usual breaks and structures. Another point often made is that the females are especially concerned with feeding in preparation for the spring spawn.
It could also just be that early winter is a continuation of fall habits. The sun shines bright, oxygen content is high, and the minnows continue to meander about the shallows. Add the notion that the fish are bulking up in preparation for midwinter and you've got the perfect conditions for some hot action.
So, this is a great time to break out the winter gear, because by the middle of January the light will diminish because of the snowpack, the oxygen content will drop and walleyes will move to deeper water and the bite will definitely slow.
Safety First!
Of course, this is a good time to remind everyone that safety comes first. You'll want to be certain that the ice is thick enough to support whatever you're bringing to the game. According to the experts, if it's just yourself and your gear, the ice should be at least 4 inches thick. If you are bringing your midsized truck onto the ice, make sure you've got at least a foot underneath you. By the time the ice is that thick, it will be the middle of winter and time for a new strategy to tempt those otherwise lethargic 'eyes to take the bait.