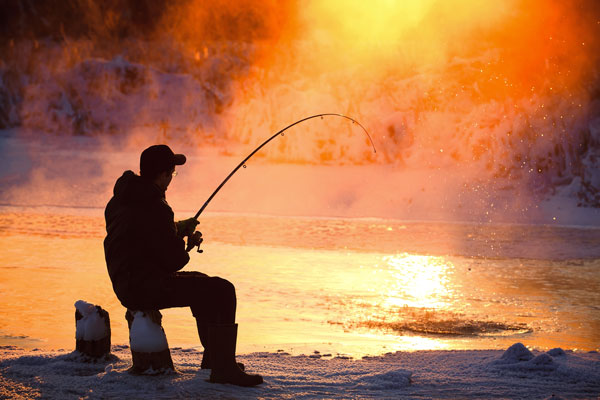 Winter is here
As winter closes in and the ice begins to set, there will no doubt be reports of hungry fish with an aggressive bite. First ice always brings fishermen out in droves to take advantage of what's considered to be the best time for ice fishing. And it doesn't necessarily matter if you're way up in Minnesota, Wisconsin or Michigan, because early season ice fishing can be super just about anywhere. The fish go into a feeding frenzy this time of year and walleyes are no exception.
The question is, why does the action get so hot and heavy while the weather is cooling off? There are a number of theories, but no definitive answer. One possibility is that all the sediment that was kicked up during fall's unstable weather begins to settle out once the ice puts a lid on it. The water clears and the baitfish are still in the shallows and easy to see, so walleyes don't stray too much from their earlier haunts and habits. They will continue to hang around their usual breaks and structures. Another point often made is that the females are especially concerned with feeding in preparation for the spring spawn.
It could also just be that early winter is a continuation of fall habits. The sun shines bright, oxygen content is high, and the minnows continue to meander about the shallows. Add the notion that the fish are bulking up in preparation for midwinter and you've got the perfect conditions for some hot action.
So, this is a great time to break out the winter gear, because by the middle of January the light will diminish because of the snowpack, the oxygen content will drop and walleyes will move to deeper water and the bite will definitely slow.
Just because it's winter, it doesn't mean you can't catch walleye. Most of the basic rules continue to apply, but there are some specific cold weather strategies that can increase your chance for success.
Firstly, the best times for catching walleye still hold true. The hours surrounding dusk and dawn are when walleye are most aggressive, taking full advantage of their low light capability to forage for food. You can also have good luck during regular daytime hours if the weather is snowy or overcast. Start fishing deep during daylight hours and move to shallower areas as the sun begins to set. Walleye are a little like zombies – they don't like to come out in the bright light.
Night fishing for walleye can be rewarding, as well. Wait until their renowned light gathering eyes have adjusted, an hour or so after darkness has set in. They'll be back on the prowl, patrolling shallower waters looking for a late-night snack. If you have some good moonlight, all the better.
Knowing when a walleye is in a biting mood is one thing, but you also need to know where they're hanging out. It's always good to learn the best spots on a lake or river before the ice sets up. If you're not already familiar with a particular body of water, you can use a fish finder and map out the areas and depths where they're holding. Again, most of the usual rules apply. Walleye like rock or gravel bottoms, holes, dams, structures with drop-offs, etc.
There are differences, however, between early and late winter walleye fishing. As the first ice begins to set early in the season, walleye tend to remain in deep water that's close to the shallows where they can take advantage of the last remaining bait fish. But during the latter part of winter, they will begin to focus on the spring spawn and move into staging areas near their spawning grounds. If you're lake fishing, locate spots where rivers or creeks come in, as they tend to supply the warmer water walleye like to stage in. If you're on a river, look for areas where their upstream movement will be blocked by dams or other man-made or natural obstructions. But remember, they aren't exactly at those spots just yet. They'll be exhibiting their late winter, pre-spawn behavior, which means staging themselves somewhere just off their spawning ground. So the key often is fishing the spot closest and deepest to the spawning site. But, don't wander too far off from ground zero, walleye are likely staging within 30 feet from that point.
Safety First!
Of course, this is a good time to remind everyone that safety comes first. You'll want to be certain that the ice is thick enough to support whatever you're bringing to the game. According to the experts, if it's just yourself and your gear, the ice should be at least 4 inches thick. If you are bringing your midsized truck onto the ice, make sure you've got at least a foot underneath you. By the time the ice is that thick, it will be the middle of winter and time for a new strategy to tempt those otherwise lethargic 'eyes to take the bait.